Vinyl signs at Austin Sign Company are one of the most popular and versatile types of sign materials, providing nearly limitless applications and options. From window graphics to vehicle wraps and everything in between, there are a lot of different options when it comes to the types of vinyl signage you can get for your business.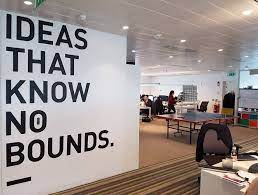 Window graphics are a great way to boost sales and awareness of your business. Easily communicate store hours, contact information, and more through your windows with a custom window graphic from Austin Vinyl Signs and Graphics.
Window decals can also be used to convey privacy, share important employee information, or provide safety tips and warnings to your patrons. Whether you need temporary images for a special sale, or long-term permanent branding for your windows and walls, we have the right vinyl solution for you!
Using perforated window vinyl, we can create dramatic effects that combine expansive bold graphics with fade-resistant vivid inks. This material is ideal for creating sky-high designs or for highlighting a single pane of glass. We can even provide a laminate to help protect against UV fading and light scratches. This makes it perfect for a variety of applications including vehicle graphics, trade show signage, POP displays, and hundreds of retail applications.
Vinyl is a versatile material that can be used to create a wide range of sign products from wall graphics to window displays. It's also a great choice for a variety of other applications like vehicle wraps and floor graphics.
The team at Austin Vinyl Signs and Graphics has been in the business for quite some time now, delivering innovative, high-quality, and affordable signage solutions to local businesses in Central Texas. We offer a full-service package including design, fabrication, and installation services to give your brand the boost it needs.
For the best high-quality and low-cost signs in the Austin area, contact us today to get a free quote or to schedule an on-location evaluation of your facility. We'll make sure you are getting the finest in vinyl and other signage materials to meet your budget and exceed your expectations. We are a woman owned and operated company serving Round Rock, Pflugerville, Austin, Cedar Park, Leander, and surrounding areas of Central Texas.
Banners are an important part of any marketing strategy. They help promote your business in a variety of ways and are also one of the most cost-effective forms of advertising available.
At Austin Vinyl Signs and Graphics, we offer a wide variety of banner printing options for all your needs. We can print your banner on a variety of materials, including vinyl and mesh.
Whether you're looking for an outdoor banner to draw attention at your next trade show or you want a custom roll up banner stand to take with you to events, we can provide you with the solution that is right for you.
We can create a full-color banner that will make your event, special occasion or celebration pop! Our durable, weather-resistant custom banners are the ideal way to showcase your brand and communicate with customers and potential clients. From banner stand design and fabrication to installation, our team will help you plan and implement the best banner strategy for your company!
Vehicle graphics are a great option for businesses that want to communicate a quick message about an upcoming event, a new branch, a new service or the addition of a product to their line. They are also an effective advertising option for businesses that do not have a large budget to put towards outdoor advertising.
We offer a variety of options for vehicle graphics and fleet wraps, including full color wraps that create a rolling billboard for your business and a partial wrap that covers specific areas while providing cost-effective advertising power. We can even add window perforated vinyl to your partial wrap for a unique look that allows you to see out and still be able to see what is on the inside!
At Austin Vinyl Signs and Graphics, we use a wide range of types, weights, textures, finishes and application methods to deliver impactful solutions for our clients. Call today to learn more about all of the ways we can help you reach your marketing goals.